How To Create A One-Click AI Video Everyone's Talking About
Advertisement
AI tools that can make content quickly are getting more and more competitive these days. While trends like the recent vintage yearbook photo craze have gained attention, AI animation is at the forefront of pocket-sized tool development, and it's becoming more accessible to non-tech savvy users.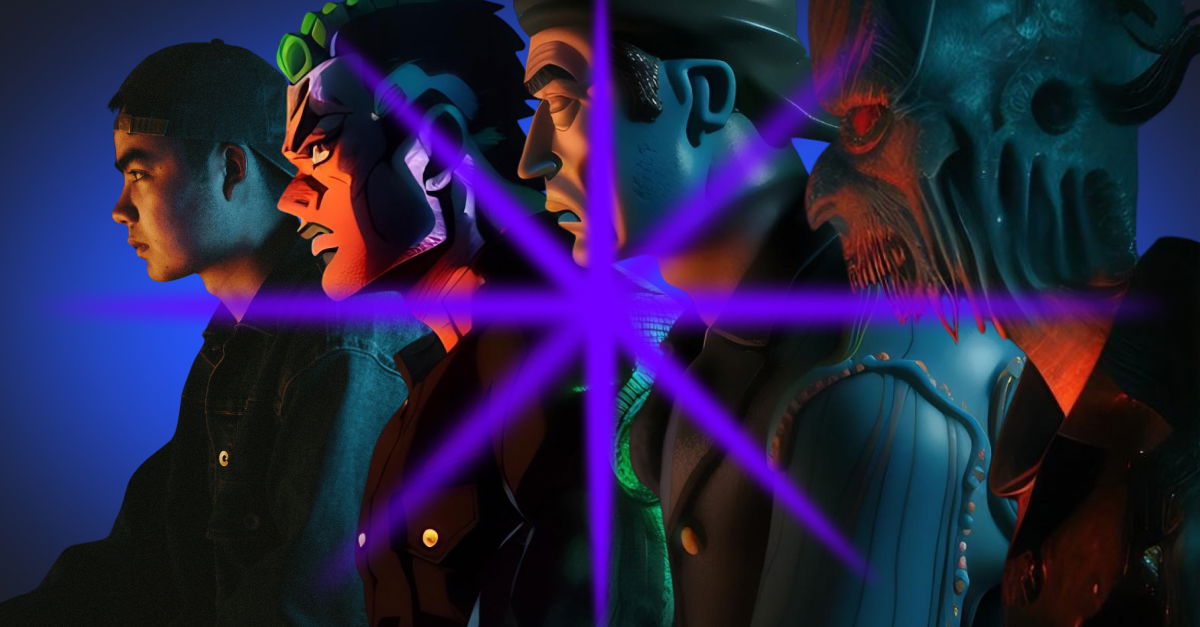 In 2023, Unboring has experienced a surge in popularity, as evidenced by dozens of video tutorials on social media. It has even been featured in The Verge as one of the best AI tools for creators. There is no need to grasp Discord, no editing skills are required, no text prompts are needed—easy content creation and quick editing without any hurdles. Everything you need is packed into one user-friendly product, allowing you to effortlessly make incredible AI-generated videos, classic face swaps, and AI animations in just one click.
Keep reading to discover how you can make high-quality AI-animated videos with this cool tool.
In this step-by-step guide:
What is Unboring?
The process of creating AI-Animated videos
How AI-powered animation is easier than ever
Frequently asked questions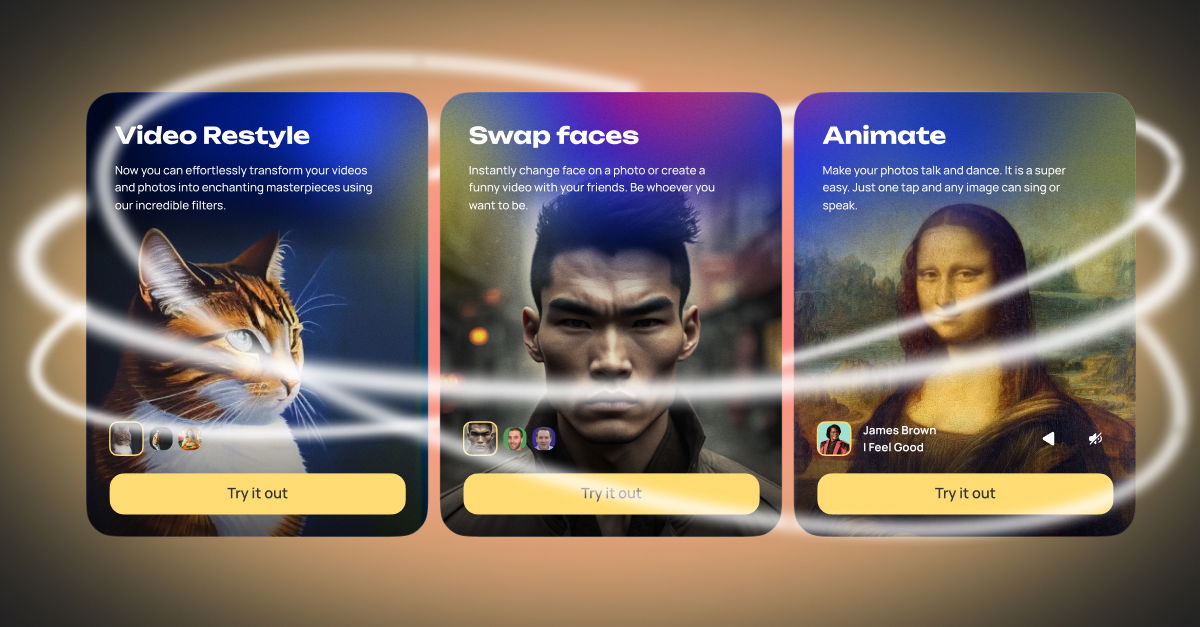 What Is Unboring?
Get ready to spice up your content game! Unboring, Reface's latest AI-driven web platform, is here to rocket your content into a whole new realm of cool. Released in the summer of 2023, Unboring combines Reface's stellar AI features on the web: face swap, image animation, video restyle (video-to-video technology), and photo restyle.
The platform has a huge content library for you to use, a hundred motions and sounds for lip sync animation, and over 50 preset AI filters for restyling. The main advantage is that you don't need to download different apps and can get AI fun in one click. This makes Unboring accessible to those who prefer browser and desktop applications to mobile apps and those who want to use AI tools without any Pro skills.
Navigating the platform is simple and user-friendly, meaning you'll get a seamless experience while creating personalized content.
Unboring just got cooler with some fresh updates. Now you can have fun turning into a classic '90s high school character like a nerd or a homecoming queen. These '90s yearbook avatars have become a viral trend and are all over social media now! But the real star of the show is Restyle, an AI animating tool that's got everyone making and sharing on YouTube and TikTok.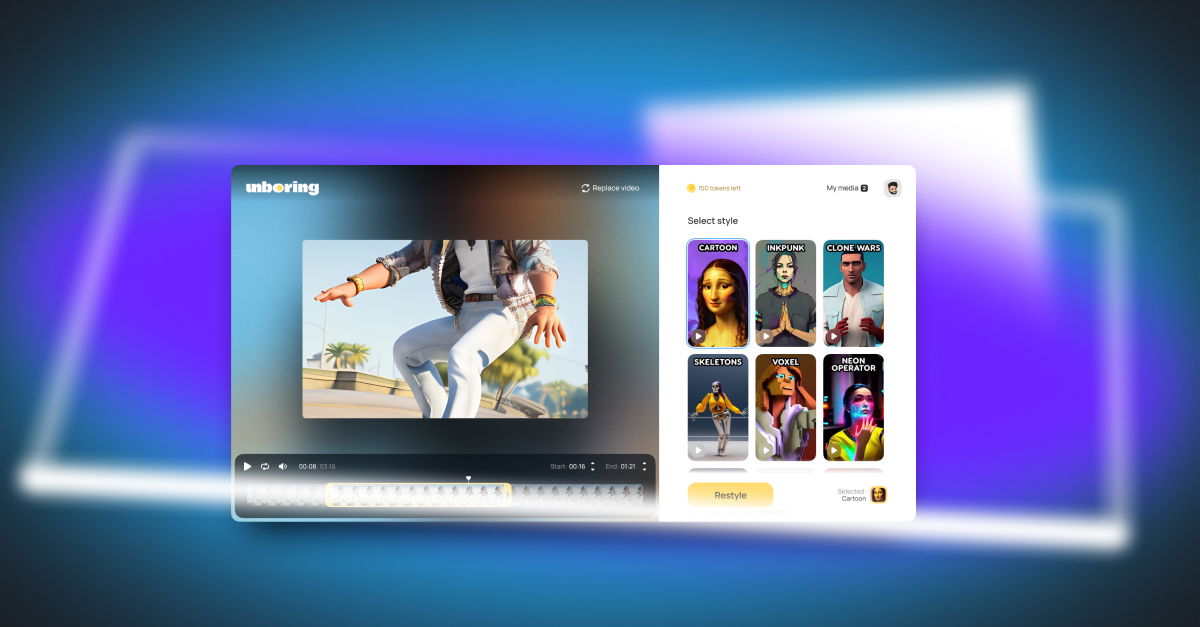 How to create AI-animated video
The Restyle feature uses video-to-video technology and allows you to apply an AI filter, or AI style, to input content. AI styles are the result of training the model on datasets illustrating particular aesthetics—be it a cartoon, Halloween, or vintage anime. This way, you get AI-animated video using AI style transfer.
Now, let's dive into how you can use Unboring to create AI-crafted videos. Here's a step-by-step tutorial for using the video Restyle feature, which is currently getting a lot of buzz.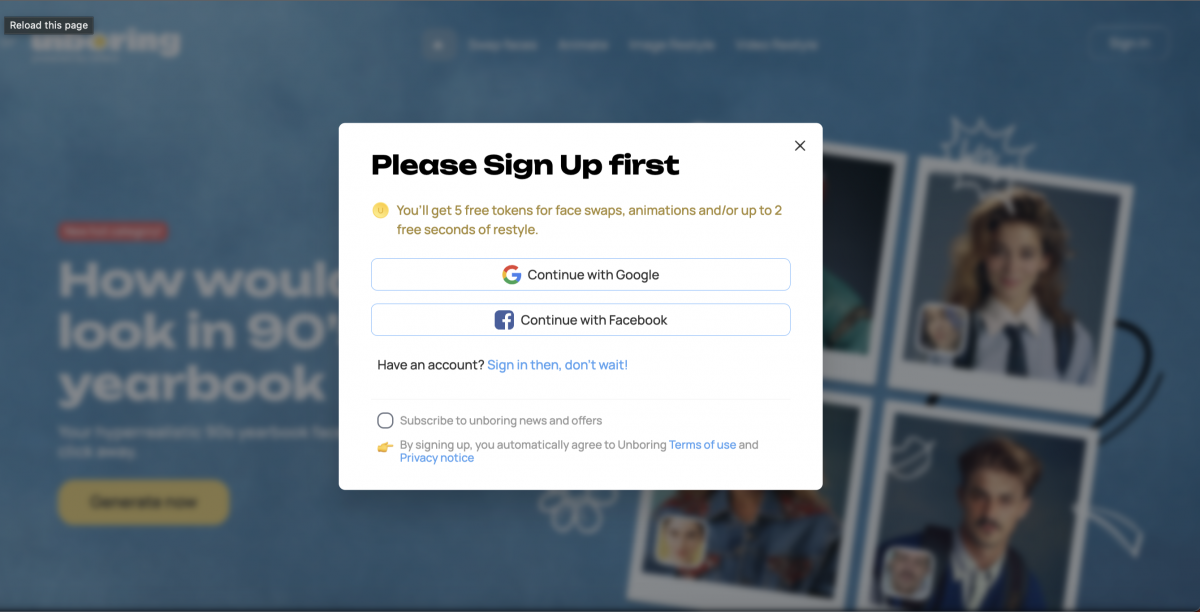 Now, when you're logged in, let's get to the much-anticipated part. Head over to the Restyle feature, and we'll start with how to restyle a video using one of the AI filters.
Click the "Upload" button to select a video from your computer, or simply drag and drop the video into the window. 
After uploading your video, you'll be asked to cut it down. At this stage, you can set the start and end points on the timeline to apply the filter to the chosen part of your video.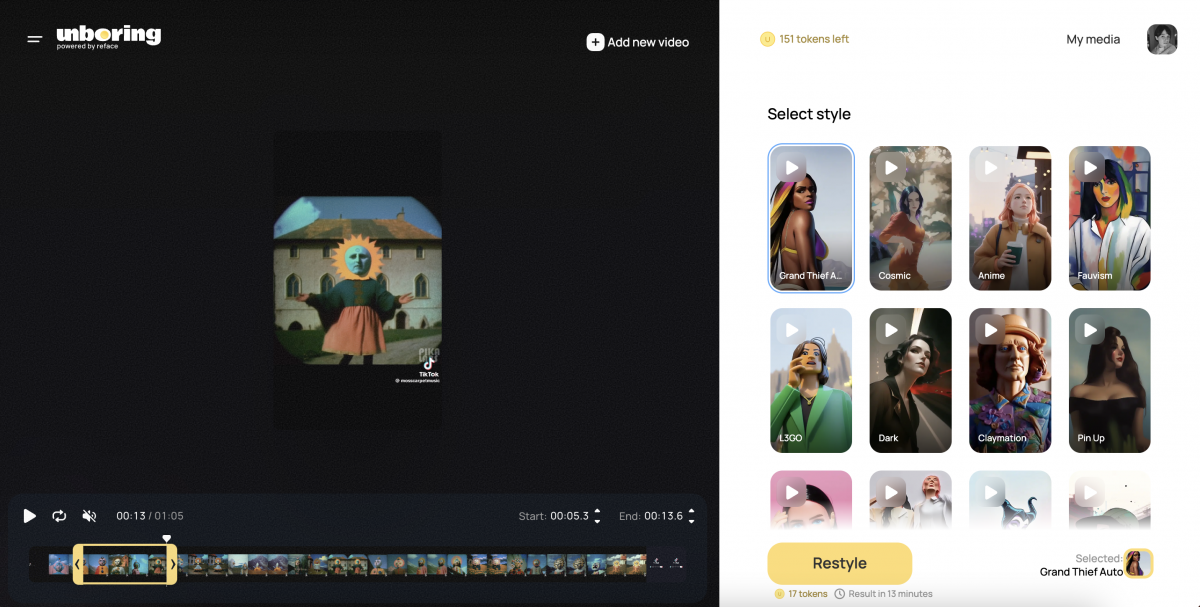 Next, pick the AI filter to restyle. You'll find lots of cool styles on the platform, from classic anime and ink punk to claymation and vintage, plus plenty more. Have fun checking out all the choices and select a style that feels right for you.
Once you've picked a style, it's time to render your video. The processing time will depend on its duration: the longer your video is, the more tokens will be required to render it. Unboring provides transparent pricing, so you will know how many tokens are needed for each piece of content manipulation. It generally takes 2 tokens per 1 second of your video to restyle.
The platform is free to try, so you have free tokens to experiment with its features. You can also check how it works in the demo.
The AI filter is applied when you click the "Restyle" button. It will take some time, but the cool thing is, you can skip the rendering process and try rendering another video while your previous piece of content is being processed.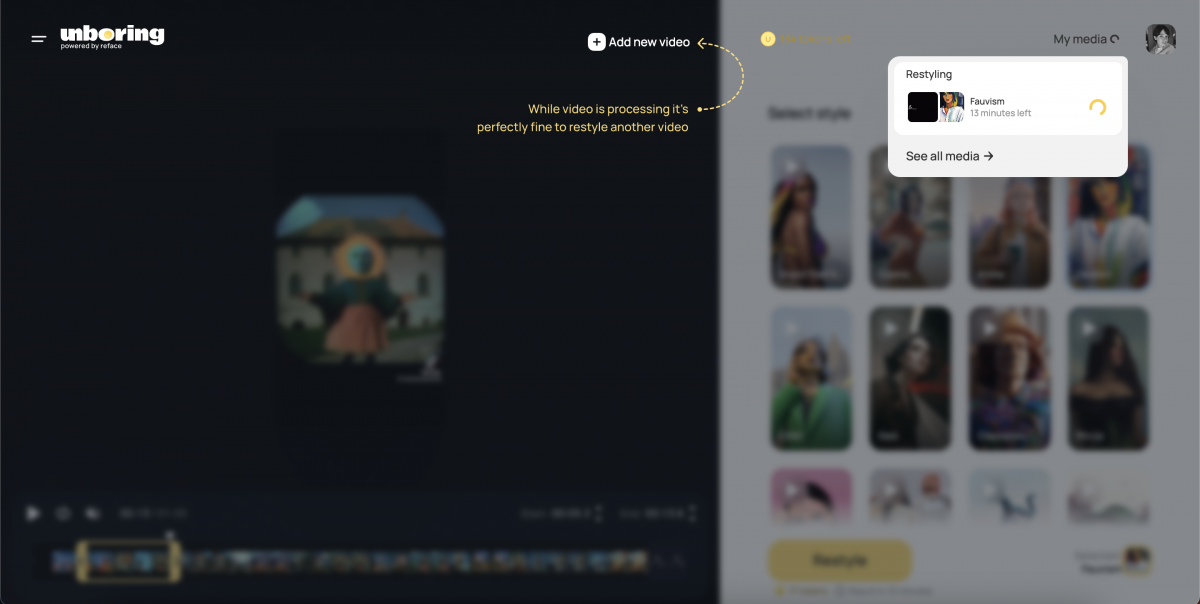 Once the rendering is complete, you can watch a preview of your AI-generated video. If it looks good to you, click "Download," and it's ready to be shared on your social media.
There is also another way to animate your content with Unboring. It involves a few more steps, but the result can be truly amazing.
Let's start by applying an AI filter to your picture. Choose the "Image restyle" feature on the Unboring home page and upload a photo from your computer. The image restyle feature offers the same extensive collection of styles, and processing images only takes seconds compared to videos. Restyling an image costs two tokens.
Once you've chosen one of those artistic AI filters, click "Restyle" and enjoy your AI-generated image in seconds. By moving a switch, you can compare your input photo with the restyled one.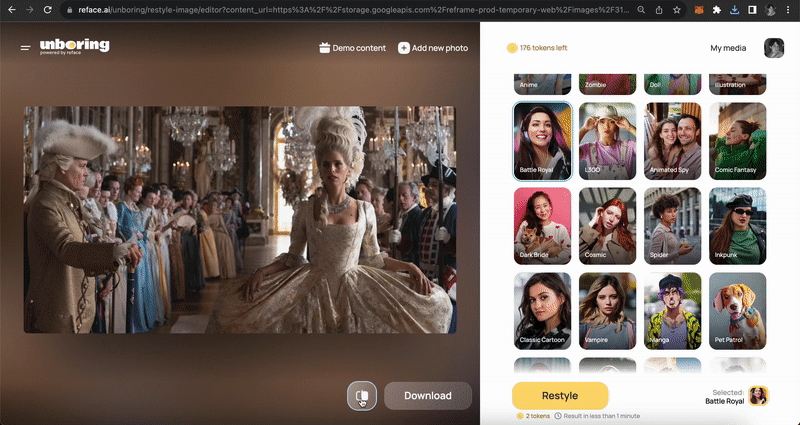 Then, you can download your restyled picture, but take your time—the most interesting part is ahead.
Let's dive into 'Animate,' another cool AI feature from Unboring. It's great for animating both your own pictures and those created by AI. To animate a photo, click "Upload" and select your previously restyled picture from your computer.
The next step is to choose one of the AI animations and sound presets. Unboring has a hundred (!) of ready-made tidbits, from top memes to TV catchphrases and timeless music hits.
Choose which faces in the photo you'd like to animate. Keep in mind that animating each face will use up one token. After making your selection, simply click "Animate" located in the bottom right corner, to start the process.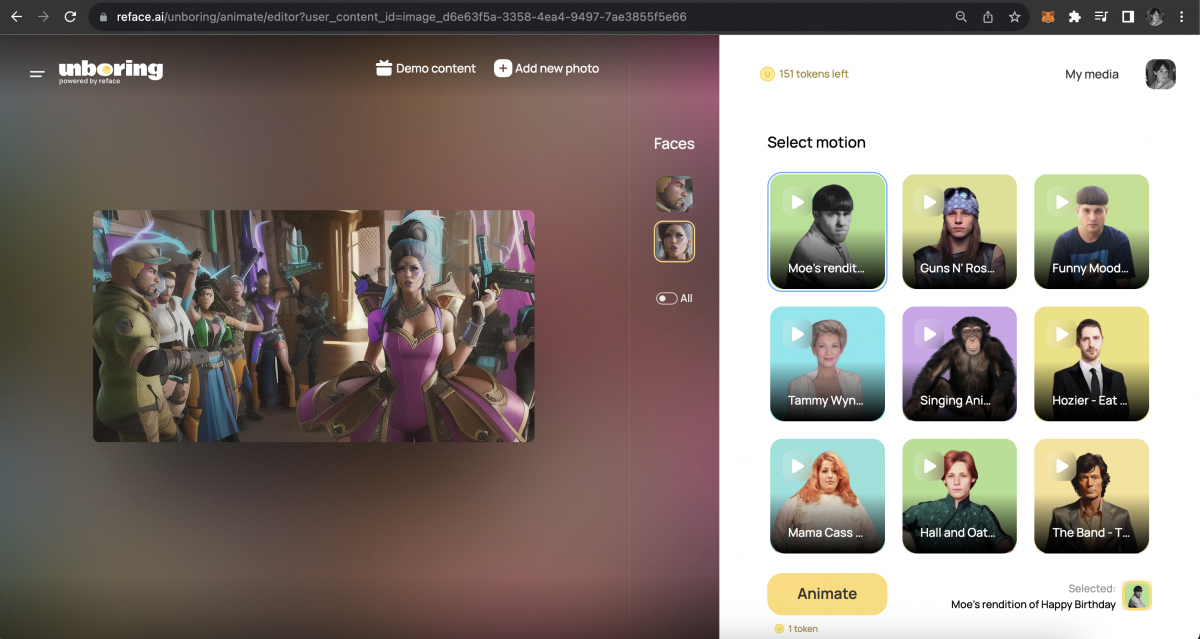 Unlike video animation, Unboring photo animation only takes seconds.
Download the Unboring stuff you've created, your AI animation is ready to be shared on whatever platform you like.
What's this all about?
It's really inspiring to watch non-tech savvy creators who've dabbled with AI on their own use these tools in such fun and expressive ways, making them accessible to everyone.
Generative AI tools are incredibly advanced now, letting you make and tweak awesome videos easily. Yet, a lot of these tools can be tough for regular folks who just want to have fun and create without needing special editing skills, or Midjourney prompting secrets and closed communities of AI artists. But imagine if "one-click" all-in-one tools become the norm—they could shift the whole game, enabling everyday creators to whip up top-notch AI content just like the pros.
Frequently asked questions
Unboring is the AI-powered web platform by Reface, launched in the summer of 2023. Video restyle tutorials using Unboring are all the rage on social media, showcasing how users apply Unboring styles, also known as AI filters or AI effects. The platform offers over 50 pre-designed styles, including popular options like L3G0, Fauvism, Doll, Van Gogh, Vintage, Cartoon, and more.
Can you create free AI-animated videos?
Yes, you can. When you sign up, Unboring gives you 5 free tokens. You can use these tokens to try out face swap, restyle features, and animation.
Do you have to pay for Unboring?
Yes and no. The platform offers transparent pricing, so you can decide what amount of tokens you want to get by choosing the subscription plan. Currently, Unboring has three pricing options: Free Starter, Advanced, and Pro.
The platform uses tokens as the virtual currency. You can use tokens across all its services. By purchasing tokens, you can swap faces, animate photos, restyle videos, or restyle images.
Unboring values your privacy and safety. The platform follows strict data protection rules, and the uploaded content is never stored or shared anywhere without your permission. The platform also has a filter to block prohibited images and videos.