How To Wear All-Black When You're A Guy
When it comes to men's fashion, all-black is always a great choice. And many men are aware of this fact. Statistics show that black was one of the most shopped colors in menswear back in 2015. Black accounted for a whopping 32% of all clothing sales that year. Since then, more and more men have decided to go all black. But what some may not know is that there is an art to wearing all black. There is a lot more to this stunning look than just grabbing a bunch of black. How you wear your black can make totally different statements based on variation. To ensure you are making the right statement, you have to understand the nuance of all-black style. This will not only make sure you are aligning with the right all-black message, but also that you feel good while doing it. To understand the best way to select your next all-back fit, check out these 5 best ways to wear all-back.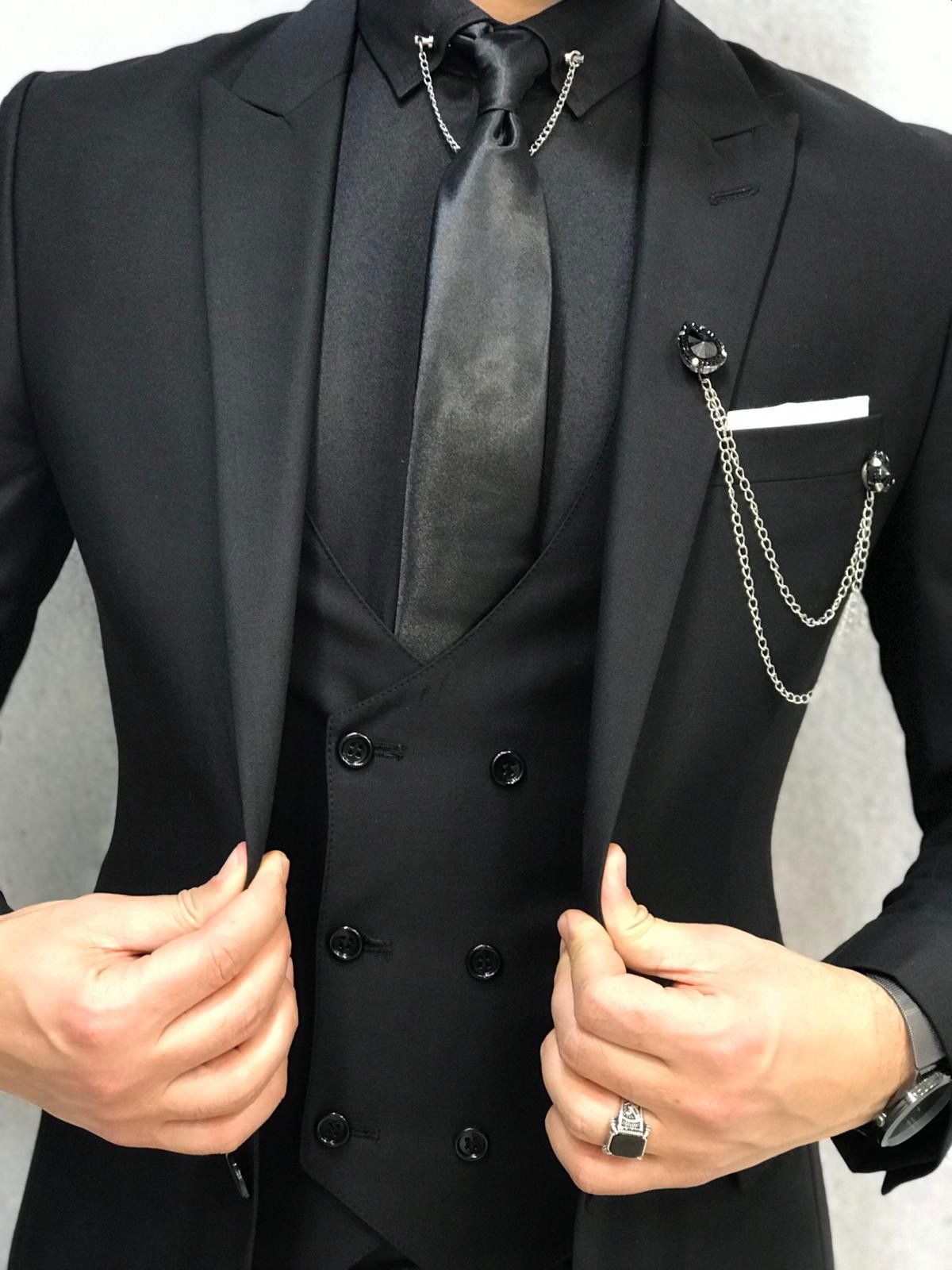 Formal All Black Suit
One of the most attractive ways to wear all black is the formal suit. This typically consists of the black suit, shirt and tie. And it is sure to be a hit at your next dinner party or formal event. This look will make you look like you're red carpet ready. You want to make sure that the blacks are all of a similar hue so that the color scheme looks seamless. One of the most important aspects is to ensure that your suit is top tier quality. The color should be crisp, and the fit should be perfect. An impeccable suit is the basis for this triple threat look. If the suit is not well made, the entire outfit will look off. One way that you can have some fun with variety in this look is with textures. You can pair this outfit with patent leather Oxfords. And mix textures throughout the outfit, like a satin lapel, a cotton shirt, and a wool tux. This will give some interest to the eye when looking over the outfit.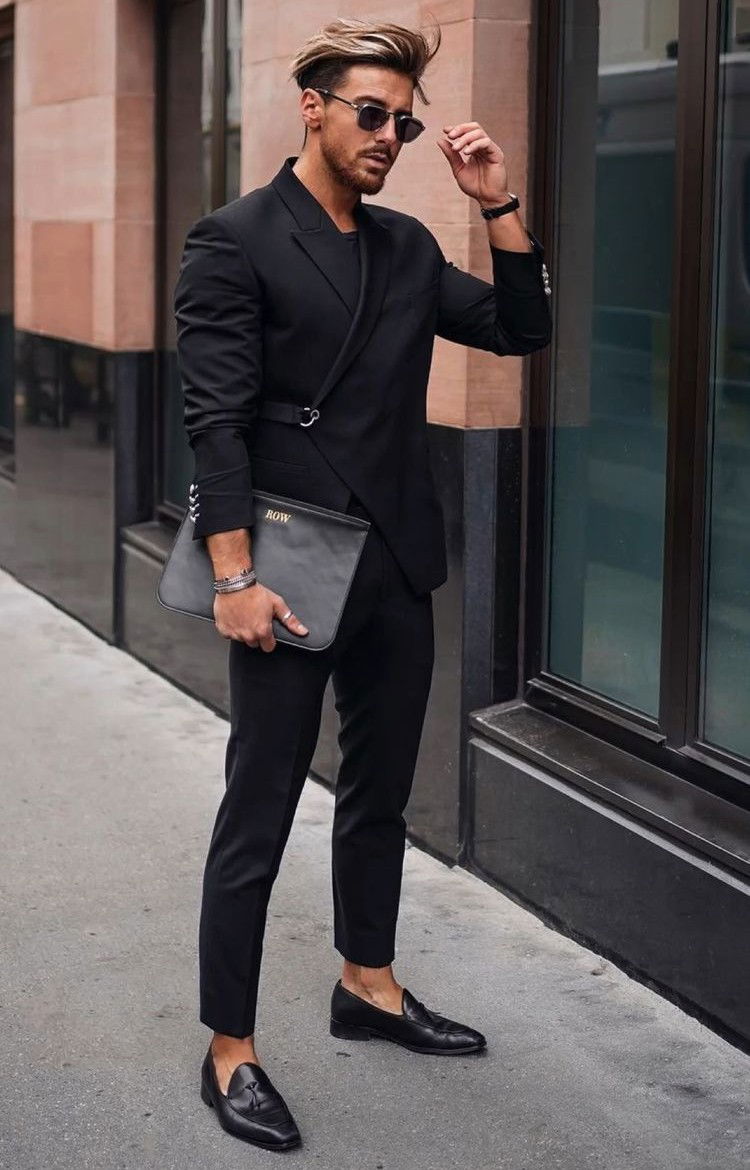 Casual All Black Suits
All black suits don't necessarily always have to be formal. The casual black suit is a cool, clean look as well. The difference in the formal suit and the casual suit is all in the tailoring. Tailoring in terms of all-black casual suits is all about clean lines and a more relaxed look. This gives a good blank foundation to add in some statement accessories. Because the look is more casual, you can get a bit more bold in your accessorizing style, with pieces like a flashy watch or ring, or even a necklace or chain. You can also have some fun with various aspects of the outfit, such as wearing a black V-neck t-shirt or even a black beanie. You could even try a pin in your jacket or faded black or brown boots.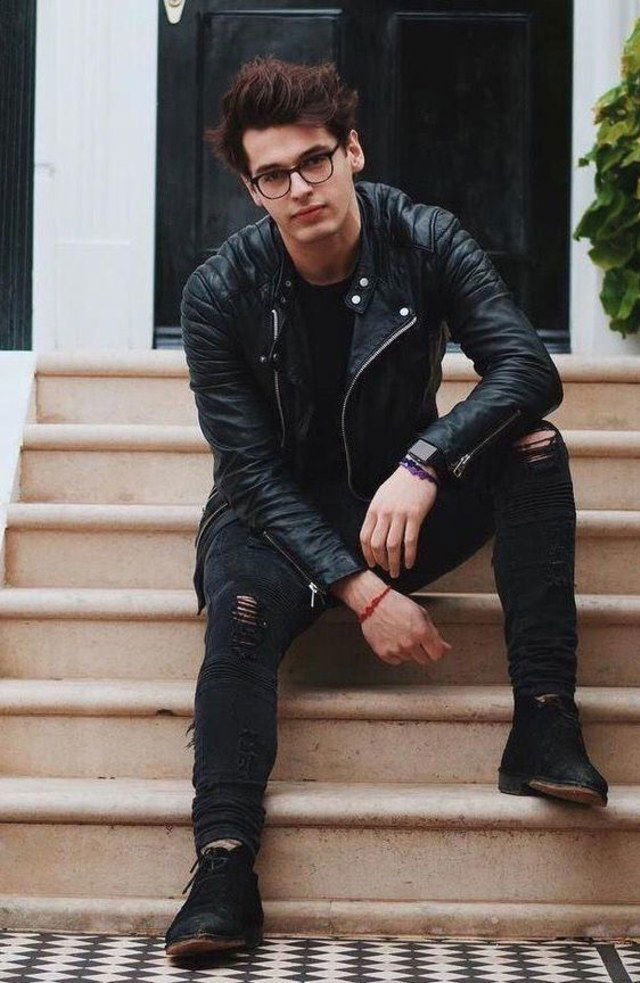 Rock Star All Black
The all-back rock star outfit is a classic look that has been around for a while. Whether you dress it up as a biker look or totally rock it out, the key to this look is all in the leather. The leather jacket is the staple piece, and you can build out your look from there. Crisp black jeans or faded, depending on the look you want, can pair well with a plain black t-shirt, shades and various styles of hats, such as a beanie or even a leather ball cap. A nice Chelsea boot is a good option to round out the look. You can also build a look around the Mod-squad style, with a long button-down shirt, wool fedora, and black skinny jeans.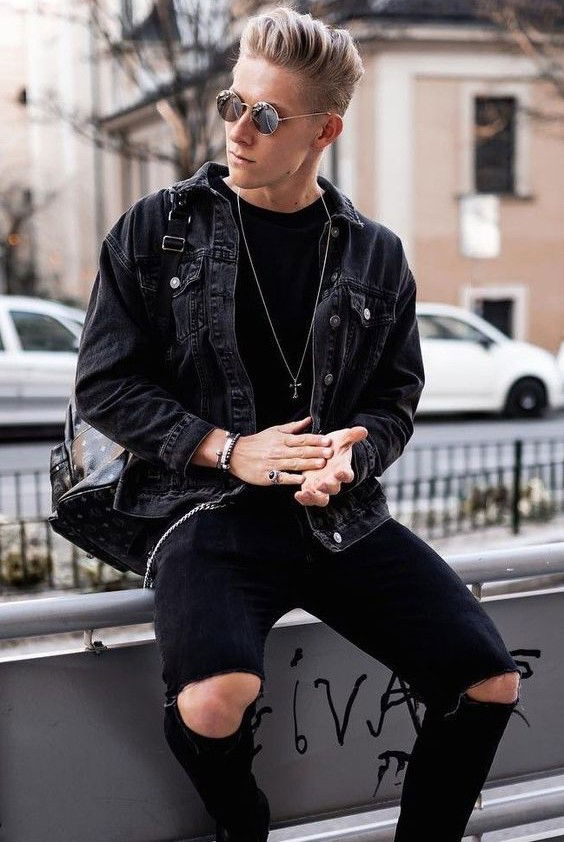 Denim All Black
For a more casual, relaxed look the all-black denim look is always a good go-to. This variation consists of a simple t-shirt and jeans as a base. And you can dress up or dress down this look based on the occasion. You can wear ripped jeans with tennis shoes, or cropped ankle jeans with sleek oxfords. Leave the shirt out for a super casual look, or tuck in your shirt to immediately achieve a smart, sleek look.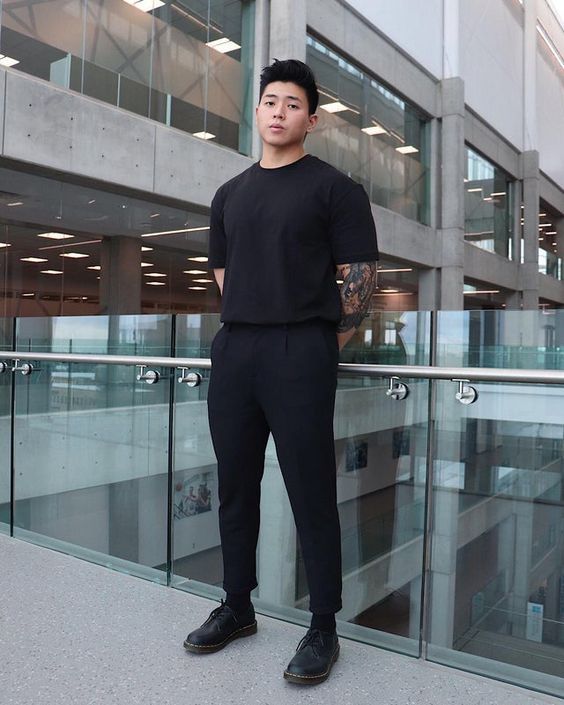 Japanese All Black Style
Last but not least, a super cool way to wear all black is the Japanese style. This distinct variation is all about minimalism, and is thought of as streetwear noir. Think pieces like black Bermuda shorts and long black tunics or kimonos, or wool-cotton trousers with a simple black tee and leather high tops. The key is to pair slim cut pieces with flowy pieces as well.