Halloween Makeup Trends Of 2021: From Corpse Bride To Fairycore!
Halloween is just around the corner, and the creepy witch makeup is finally about to pay off.
While it is still September, but the fact that last year was technically #canceled, we are excited beyond imagination for this year's Halloween.
In fact, we might be onto something in a grand way this year. Pinterest data from July suggests more than 13x times more searches for terms such as 'awesome Halloween makeup' when we compare it to the previous year.
For makeup enthusiasts, Halloween is the major event on the calendar. It is perhaps the only time when one could adorn their faces with crazy designs, special effects, or tons of paint on your face and it'll be considered okay. We aren't going to give you nuanced tips on this one, and we strongly recommend you go with whatever the hell you feel like best suits the occasion, as Halloween is about letting the freak inside us fly high!
And whether you are planning to don a gory face with fake blood all over, be creepy, or just cutesy, we are here to help you pick the best inspirations. Pinterest recommends one major makeup idea to check out – fairycore. Data suggests searches for terms like 'fairy makeup aesthetic' are over 94x times more than last year. People, it seems, are looking more for themes of escapism instead of the usual scariness. And not just fairies, searches are also up for themes like 'mermaid makeup', or 'elf makeup tutorial' – both of which are up by 7x and 5x respectively.
We also noticed there was a 5x increase in search of the terms 'scar makeup' and 'snake makeup'.
Here are our top five favorite Halloween looks you ought to give a try.
Corpse Bride
#Corpsebride is quite popular on TikTok, with millions of views on the platform. And one of the most amazing Halloween looks comes from none other than @caoimhemorris, who has hundreds of looks that you can take inspiration from.
Fairy & Elf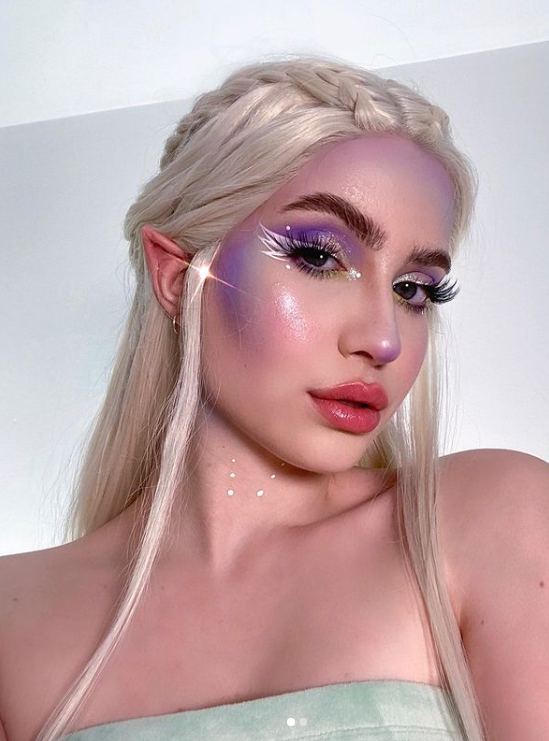 Fairy and elf makeup is another popular style this year as people look to escape the horrendous year we've all had. This Abby Roberts look can offer you some inspiration for this year's Halloween makeup.
Cruella
If you want a modern take on Cruella, the Emma Stone-inspired "The Future" rebel makeup with a touch of crimson glitter will light the atmosphere up.
Queen Of Hearts
#queenofhearts is another popular trend on TikTok, with over 160 million as of now, and is one of the best Halloween makeup ideas of this year.
Creepy Clown
A creepy clown is perhaps the spookiest makeup one can wear on Halloween. Avani Gregg, a makeup artist, has come up with #clowncheck trend, which has made her channel immensely popular over the last few weeks.